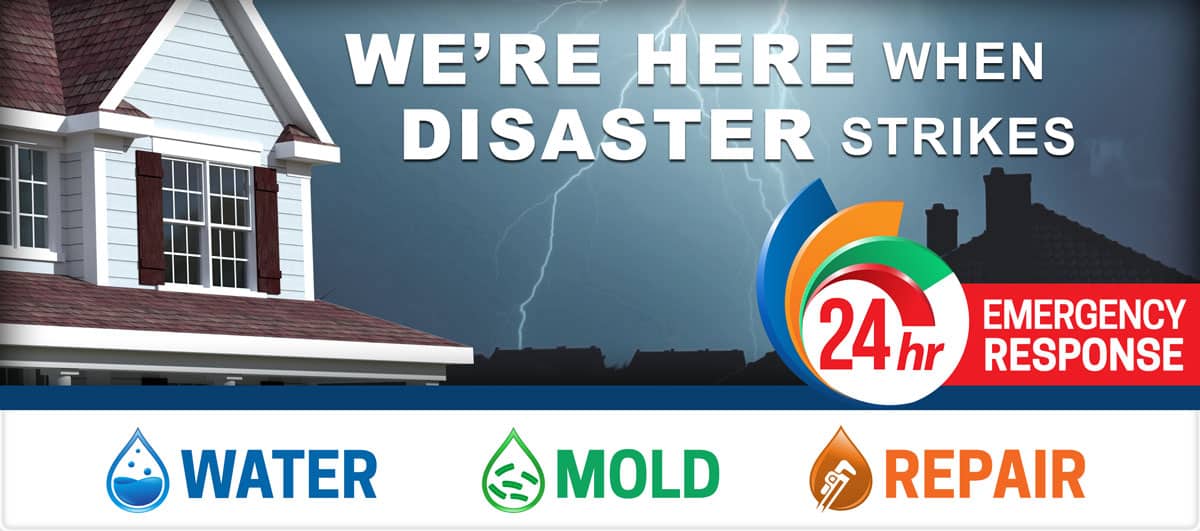 Water Damage San Diego FAQs
Should I Call My Insurance Company Or Water Damage Restoration Company In Case My Home Is Flooded?
You should notify your insurance provider if possible, but the most obvious step is to contact a water damage restoration firm right once. You must begin water cleanup and damage repair as soon as possible. When you call us, our staff will arrive as soon as possible and do everything possible to prevent future damage to your property. This will help you save money on restoration while also protecting your home. Our restoration firm will document all of the damage so that you can file a claim with your insurance provider.
What Is Included In The Water Damage Restoration Process?
Restoration of water damage is done in stages. The most important step is to remove all floodwater from your property and water from your carpet and other materials. Dehumidifiers and other equipment are utilized to help dry out the affected areas once the water has been removed. The process can take many days, depending on the volume of water and the size of the impacted area. Thermal imaging cameras and moisture meters are utilized once the work is completed to check that every house corner is dry. Drywall removal, carpet cleaning, wood floor repair, air duct cleaning, and mold removal are all included in our water damage restoration services.
How Much Time Is Required For Water Damage Cleanup?
Two stages of water restoration are accomplished. The first stage is mitigation, which includes demolition, cleansing, and drying of the structure. This procedure takes 3-4 days to complete. The second phase involves repairs, which can take anywhere from a few days to weeks depending on the extent of the damage and the time required to access damaged materials such as carpets, cupboards, and floors. Our project manager will collaborate directly with you and your insurance carrier to produce a detailed timetable of all losses and ensure that your house is restored as soon as possible.
What Certification We Hold For House Flood Water Damage Restoration?
San Diego Flood Restoration provides a comprehensive set of guidelines for dealing with water damage. Water damage repair should be performed by skilled and well-trained experts who respond quickly and effectively to water damage issues in a home by San Diego Flood Restoration.
What's The Average Cost Of Water Damage Cleanup?
The cost of water damage cleanup is largely determined by the size of your property or the flooded region. It also depends on how much time it will take to complete the repair. Make sure your insurance policy covers water damage restoration by checking your policy. If it does, you'll simply have to pay the deductible. However, be cautious since water may flow quickly and damage your belongings. If not addressed with suitable equipment, it can lead to a variety of other issues, such as mold growth and even structural damage, which can cost you thousands of dollars. However, if water damage repair is done correctly, it will take several days and hours, but it will spare you from expensive and time-consuming repairs.
Categories Of Water - What Are They
Gray water, black water, and clean water are the three main types of water. Clean water poses no danger to people, but it might damage your property. Gray water contamination in the form of chemical, physical, or biological contaminants can cause serious harm and illness to people. Finally, dark water is the most hazardous. It is extremely contaminated and includes pathogenic agents, causing serious illness and disease in people.
How Water Damage Leads To Mold Formation?
When your property is flooded, it creates the ideal damp habitat for mold to thrive. Mold grows quickly in wet environments and on surfaces that retain water for an extended period of time. Mold also enjoys humidity, and if extra moisture is not removed quickly, mold will begin to grow in as little as 24-48 hours.
What's The Major Cause Of Water Or Flood Damage?
Flood damage can occur for various reasons and in a variety of ways. Water damage is also caused by heavy rains, sea storms, basic flooding, and leaky or bursting pipes. Water damage is sometimes caused by roof leaks caused by faulty gutters and downspouts.
How To Find Signs Of Hidden Water Damage?
San Diego Flood Restoration will assist you in repairing any damage that has occurred to your home or business. We provide immediate assistance to guarantee that any losses are mitigated to avoid future issues, saving you time, money, and your home.
San Diego Flood Restoration will help you to restore all the damage that has happened to your house or commercial property. We offer prompt assistance ensures that all the damages are mitigated to avoid any future problems which will save your time, your money and your house.
We have years of experience in flood, water and mold damage restoration and we ensure that everything at your property returns to their original state.
We are licensed, insured and ready to help you 24/7!
Water Damage San Diego/Mold Remediation
There are no hidden expenses or up-selling when we provide our clients with a price. If any more concerns need to be addressed, we will first alert you to them before presenting you with viable solutions and their costs. Making the ultimate decision is entirely up to you. We despise bullying our consumers, and our number one objective is to solve your problem with our low-cost service.
We have a crew at our office who will answer your calls 24 hours a day, seven days a week. We never employ answering services or call centers in other countries. Our team members will take your call and are authorized to provide you with answers to your questions.
Decades Of Experience
We want our customers to have the best service and experience possible. We ensure that our experts are properly trained, licensed, and certified. All of our technicians have completed San Diego Flood Restoration training and are up to date on the latest information. We, as a firm, also stay current and educated about new technologies and procedures that can help us improve our services for you. We've been in business for a long time and have thousands of happy clients. We take great pride in our customers and the projects we work on.
We Are Top-Level Restoration Experts
At San Diego Flood Restoration, we have a team of experts who will assist you in resolving and successfully restoring all of the damage to your property.
We exclusively believe in providing professional services through our qualified water, flood, and mold damage experts that have received extensive training. Furthermore, our experts have years of experience in the restoration industry, allowing them to tackle any work promptly and intelligently.
At San Diego Flood Restoration, we also send our team to various restoration seminars and training programs on a regular basis to keep them up to date on the latest techniques for repairing water and mold damage.
We Have The Best Equipment
Restoration work will never be effective without excellent tools. Our staff arrives at your location fully equipped with cutting-edge industrial restoration equipment. We've made this equipment available to our crew so that they can utilize it to quickly and effectively repair all of the damage. Our team also has transportation capabilities, allowing them to readily carry the necessary equipment as well as additional materials and supplies for restoration work.
All of our tools, equipment, supplies, and materials are genuine and of the finest quality, ensuring that any repairs or restoration work we do is successful and long-lasting.
Here are some great links if you are interested in learning more about the San Diego Flood Restoration services:
What Services Do We Offer?
Water and flood damage repair are among the services offered by San Diego Flood Restoration. We go to great lengths to ensure that your home is returned to its original condition.
In fact, we will work directly with your insurance carrier, saving you time and effort. This means we may file the claim on your behalf and begin the restoration procedure right away. We also assist our clients in taking images in order to file a claim. All you have to do is provide us with all the details, and we'll take care of the rest.
Give us a call as soon as water or flood damage happens, and we will arrive quickly to restore the damage and avoid future harm. We also offer a free cost estimate so you can figure out how much the restoration will cost.
24/7 Restoration Services
We understand that water and flood damage strike without warning and demand prompt attention. San Diego Flood Restoration will arrive at your place in 60 minutes or less from the time you contact. We are available 24 hours a day, 7 days a week, and on weekends and holidays. Not to mention that, if not remedied quickly, water and flood damage would worsen with each passing minute.
We have a full team of professionals ready to arrive at your home as soon as possible, fully equipped with the necessary tools and materials to promptly fix all property concerns and recover your home from water and flood damage.
When we arrive at your location, we will promptly conduct an examination to determine the extent of the damage and how to begin the restoration procedure. We'll also go over the approach with you, so you're fully informed about the process. We will propose the whole strategy, time frame, and estimated job cost before we begin, and we will only begn if you agree.
Special Treatment For Commercial Services
If you want emergency business water damage restoration, we have a very flexible schedule that may be set up according to your chosen working hours. If you want us to start working on the restoration right away, we'll create a work plan that includes more people and equipment to repair your property.
If necessary, we may schedule our work to coincide with your business's closing hours and even cordon off our work area so that your commercial property remains operational during the repairs. Simply put, we will work around your schedule so that you can get the most out of your property and business while avoiding flood and water damage.
We Prioritize Your Safety
Finally, we value your safety above all else. We want to ensure that your family, workers, and employees are safe and that you may safely reoccupy your property in the greatest condition possible. Don't put it off any longer. Call us immediately to discuss your issue and receive a no-cost estimate.
San Diego's Top-Rated Water Damage Restoration Service
San Diego Flood Restoration is located on 170 Mace Street Unit #E9 San Diego. From San Diego International Airport (SAN) head east on N Harbor Dr toward McCain Rd and use the left 3 lanes to turn left onto W Grape St. Then use the right lane to take the Interstate 5 S ramp and use the right lane to merge onto I-5 S.  After that use the right 2 lanes to take Main St exit. Head East on Main St, merge onto right lanes. Turn right onto Mace St and San Diego Flood Restoration will be on your right.
We are open 24/7.
We are available at all times. You can reach us at (888) 578-5777 or on Yelp if you have any further queries.
SAN DIEGO FLOOD RESTORATION SERVICE AREAS
Water Damage Restoration Service
San Diego Flood Restoration is the best, top rated flood water damage restoration company in San Diego County. We offer deals and specials, but most importantly we have reasonable rates and prices that reflect our professional services. We work directly with insurance companies and home or business owners alike.

Are you looking for an affordable, licensed, bonded and insured flood water damage restoration company "near me" or "in my area" to mitigate your home, business, apartment, high rise or upper level condo / condominium,residential home / house, or vacation rental? If so, we can help!

Our Flood Restoration technicians use reliable products, solutions and cleaning methods to offer a quick, fast reliable and effective way to deep clean your carpet, floor, upholstery, area rug, tile and grout, saltillo, travertine, stone, spot and stain cleaning and pet urine smell, odor and removal. 

We carry all necessary equipment and supplies to do the job right the first time. Are you looking for a 24-Hour flood damage restoration service? In this type of emergency, you might have water damage and need someone fast. We do emergency water extraction.

Our customers love us based on the many positive reviews we have in Google, Yelp and Facebook. Book online or call us today to schedule a free estimate appointment.
Building Restoration Service
Are you looking for affordable quotes to have your commercial office or business cleaned up after a flood? If so, at San Diego Flood Restoration we also clean commercial offices and businesses. We help clean and mitigate different types of interior carpets, rugs, tile and grout.  We are mobile, use portable machines to get to any high-rise office or building. Our cleaning methods are proven and tried and tested.
Commercial Cleaning Service
Are you looking for affordable quotes to have your commercial office or business carpets and upholstery cleaned after a flood? If so, at San Diego Flood Restoration we also clean commercial offices and businesses.
House Cleaning Service
If you are moving or represent a property management company and need to have the carpets and upholstery deep cleaned in the rental property after water or mold damage then you've come to the right place! San Diego Flood Restoration does water mitigation cleaning services. A maid or carpet cleaning service usually doesn't have the necessary equipment or skills to take on that task.